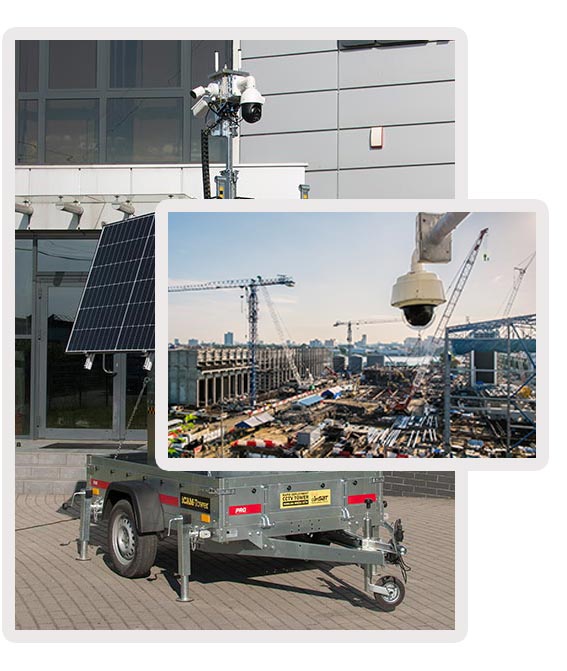 Need security onsite but don't have Power, then consider a mobile construction site CCTV tower.
Instant deploy ability
Mounted on a towable mobile platform, our mobile CCTV tower is available on both a sale or weekly hire basis.
Prices range from 300 GBP per week to 700 GBP per week (depending on length of hire)
Benefits from.
Extended off-grid usage:      1.35kw of Solar and Wind Turbine Energy
No noise – no complaints      wind turbine in vertical mounted, no excessive vibration
Tow it anywhere                    Mounted on steel framed ROAD LEGAL trailer
NO Surprises!                         Full notification of the state of current battery level / solar/wind power
Fast Charging                        240v Fast Charging Input
Deterrence                               Loud Tannoy builtin, 110w lights and strobes
Sees far and detects far          1000m detection range
Watch from it anywhere         App included
Never miss anything              Always recording
Works even in the winter
Thanks to the 1350w solar panels and 410w wind turbines, our towers work in all conditions.
The inbuilt lithium batteries ensure enough energy for the wind turbine or solar panel output is insufficient.
We have installed these units in Northern England over the last two years in remote environments – mainly in Northumbria and they have certainly proved very reliable even during the winter,
Caution…
Before using these units, check with your mobile broadband provider to see whether there is good coverage in the location that you are thinking of deploying.
Our tower units have a sim card that will lock on to the strongest mobile signal regardless of the UK network.
But even so, good local coverage and mobile phone coverage is essential.
Construction site tower CCTV – FAQs…
Why Use a surveillance camera tower when there are alternatives?
Assuming your site has both power, accommodation, and it's easy enough to cable conventionally, we would always recommend that where possible you use our standard </building site CCTV cameras<   or even, our wireless construction site CCTV as a cheaper option.
By their design, CCTV towers are the more expensive option (short of having a manned guard), purely because they contain so much equipment and tech.
What's the difference between using a surveillance camera tower, a wireless CCTV system, or conventional construction site CCTV?
Primarily cost and utility  
Our standard wired CCTV option with only four cameras can be hired per week for as little as 180 GBP…but it needs power onsite and somewhere to store the equipment, i.e., a site accommodation unit.
Price and Availability 
We can supply this unit on a weekly hire basis of -300 GBP plus vat per week (min hire 12 months ) – 700 GBP per week (3-month hire or less)
Alternatively, these are for sale at 16,400 GBP plus vat (price negotiable depending on features).
Manufacturing time … approx. 4 weeks, 4 weeks' notice is needed.
CONTACT US TODAY
Professional CCTV Equipment for Building Sites