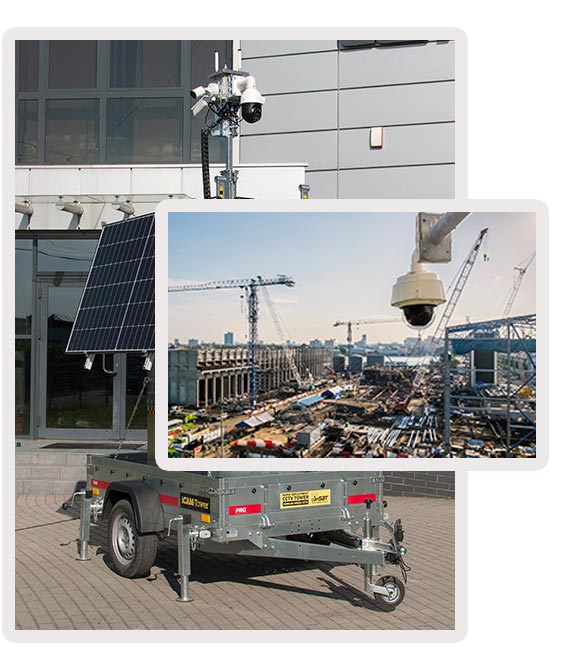 REMOTELY MONITORED CCTV – WITHOUT THE REQUIREMENT OF POWER
Keeping a generator running 24 hours a day can be costly in fuel, and present noise issues.
Ideally suited to sites with no facilities, our solar panel CCTV systems enable fully monitored CCTV 24/7 with no onsite intervention (keeping a generator fuelled, etc)
From a simple 2-camera plus 3g broadband system to something larger we can cater to any site requirements.
---
Mounted on a single self-contained pole, two cameras connected to our monitoring station with local 24hr recording onsite are viewable via the app we supply any time of day, giving you complete assurance, the system is up and powered and your site is protected.
Each camera can reach up to 30m in either direction. Anyone walking past will trigger live events to pop up on the app we supply you and initiate a connection with our central station.

---
What's included:
Standard CCTV offering (4g connection, local recorder, detectors, cameras )
Solar panels/batteries/ chargers enabling 24hr operation
Like many companies, we do provide wireless battery-powered CCTV – but this option does come with varying limitations including lack of an app, no facility to check the system is still working, no recording etc… limitations which we feel, solar panelled CCTV can overcome.
Can watch the cameras any time on the app
Can play events back (local recording)
No worries about the batteries running out and scalable to your needs
A 4-camera system requires only two solar panels which we ordinarily mount on the portacabin roof and sufficient batteries to enable nighttime operation.
Still not sure? give us a call on 0203 468 7323
CONTACT US TODAY
Professional CCTV Equipment for Building Sites