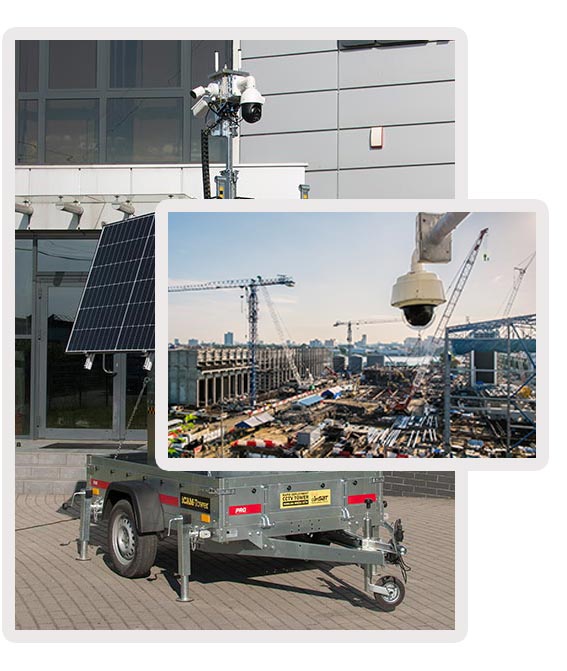 Construction Site Security
Wireless construction site security cameras are designed to operate wirelessly and without the need for power. They are able to transmit video signals using an inbuilt 4g sim card or over a short distance using the European licence-free part of the spectrum.
The main advantages of wireless security cameras for construction sites are their flexibility and ease of installation. Unlike conventional wired CCTV systems , which requires a fair bit of cabling and a source of power wireless CCTV cameras are much easier to install and have no wiring, or trenching, etc.
This makes them an ideal option ( a bit more expensive one ) for those construction sites that lack any power,  and where running cables across boundaries, thresholds, main gates, etc isn't really on.
We can provide wireless cameras for construction sites that work in two ways. 
Wireless CCTV Cameras with inbuilt Sim Cards. (4 cameras 320 GBP per week – monitoring inc.)
Each individual camera has its own inbuilt sim card.  
The advantage of this is that signal coverage is never going to be a problem, since all that is important is that the camera is located within a few miles reach of the nearest mobile phone mast.
However, the fact that each camera uses the more powerful mobile phone technology does mean that the battery life of each wireless CCTV camera is reduced somewhat, a bit like your mobile phone would be, where it is left switched on all the time without the charger being plugged in.
The average battery life for this type of camera is 1000 activations…ie walk past it out of hours 1000 times and the battery will eventually run out and need replacing.
Wireless CCTV Camera using European licence-free frequencies (868Mhz) (4 cameras 280 GBP per week – monitoring inc.)
Each camera sends a signal wirelessly to a central location somewhere on the construction site where the control panel is mounted.
 These cameras don't have inbuilt sim cards, but instead, send a signal using part of the licence-free wireless spectrum.
 Typically the range from the camera to the central reporting point where the receiver is located  ( usually a site accommodation unit ), is 100 metres line of site – being reduced to 50m or so  in the event that something blocks that line of site ( like a newly erected build)
Clearly, coverage is better when the cameras have their own sim card built in, but this does come at the cost of slightly less battery life and being a bit more expensive.
What are the disadvantages of wireless construction site security systems? 
The main disadvantage is the fact that there is no continuous recording.
It maybe that for the purposes of site management you require 24-hour recordings to be available all the time – even at times when the construction site is open, and the cameras are not actually being monitored.
Both the cameras with the inbuilt sim cards and the ones which transmit using the licence-free part of the radio spectrum, don't actually record.
If you need good recordings, then consider our standard
Building site CCTV cameras  option or  Construction site CCTV  tower.
What are the advantages of wireless construction site security cameras? 
No wires
No power needed
Quick to install
What happens when the wireless construction site cameras are tripped? 
In the event that someone walks past a camera during scheduled protected hours, the camera will send a short 30-second video clip to our CCTV monitoring station. If someone can actually be seen in this clip, the police will be called.
Still not sure?
Call us on 0203 468 7323
CONTACT US TODAY
Professional CCTV Equipment for Building Sites