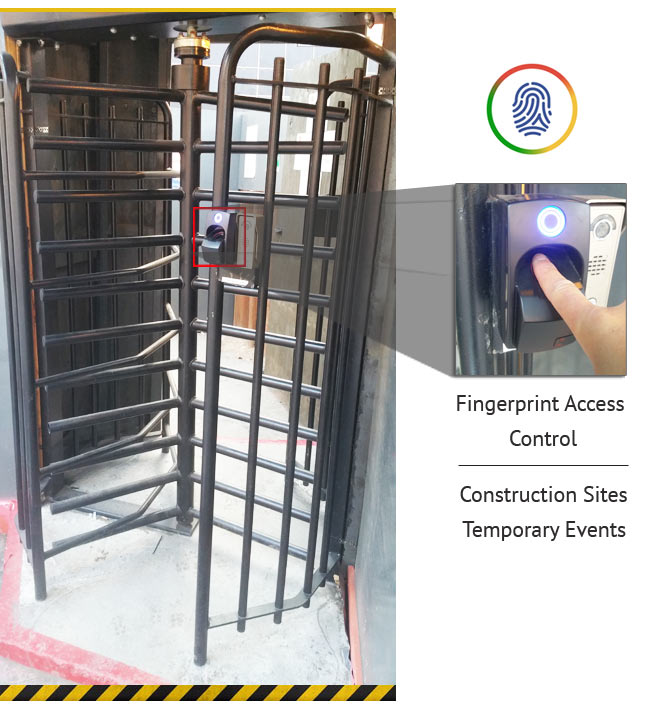 Fingerprint turnstile for construction sites at a Weekly hire of £175 or purchase at £11,800.
Looking to hire or purchase a fingerprint turnstile anywhere in the UK?
Prefabricated fingerprint construction site turnstiles, delivered anywhere in the UK – all you'll need is a main or 110v supply point and a pre-prepared 1600mm concrete plinth for it to be bolted onto.
Installed within the day.
A key fob or Biometric fingerprint turnstile – what's best for your construction site??????
Keyfob turnstiles are not only cheaper, but being simpler they tend to work more reliably. If you're looking for a RELIABLE construction site turnstile that will open every time – we can definitely help you out.
However, if you need a biometric solution – a fingerprint reading turnstile or facial recognition turnstile, we can supply you with the most reliable types of turnstiles on the market.
Our IEVO-controlled fingerprint reading turnstiles are as reliable as fingerprint biometrics get.
What makes IEVO finger printer technology so suited for construction sites is their ability to read a dirty or excessively dry finger or thumb 99 percent of the time,
dirt and dryness can prevent a successful fingerprint read resulting in a queue building up – especially problematic when the site is closing for the day and all staff are leaving.
Unfortunately, owing to the nature of fingerprint turnstile readers, (even IEVO readers), there will be the rare occasion when a user puts his finger on the reader and the turnstile still does not release,  …. This can't be avoided, which is why we always recommend where possible a simple key fob-controlled turnstile.
If you still require a fingerprint turnstile, then our IEVO biometric fingerprint-controlled reading turnstile is a great choice.
Initial Set-up 
Each new user is inducted by site management in the site office away from the turnstile itself.  
Registering the fingerprint is very straightforward and just involves you plugging a small rubberised fingerprint reader into your laptop's USB port.
Open our supplied software, take a snapshot of the user using your laptop's camera, place a finger on the reader, and click …. add and you're done.
What are the advantages of a biometric reader over nonbiometric turnstiles? 
The main advantage of course is no tokens or key fobs need to be carried around.
Key fobs and cards get lost and of course, need to be kept track of.
Please call us on 0203 468 7323 for a hassle-free no-obligation quotation.
WORKING WITH EXCELLENT
Latest News & Blog